Here's a tasty little update at one of my fave sites, SlowTeasingHandJobs...
Rich has shy muscular young hottie John in for one of his patented slow handjob auditions.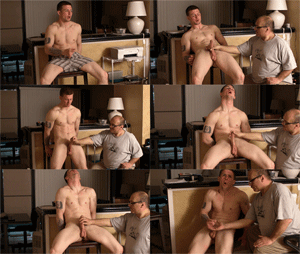 John is typical of Rich's hottie streak lately...fit, young, tatt'd and edgy, masculine, decently hung and hard-up for cash. Daddy Rich tells shy John to first strip down to his underwear and work his ample cock through his boxers...never wanting a boy to get too carried away, Rich then steps in and takes over. Notice how young John assumes a submissive posture and immediately changes focus from the porn playing for his benefit to the his own cock being worked in another man's hands. John goes through some interesting/intense facial expressions as he struggles not to let himself bust a nut while the old guy relentlessly works his nice cock.
My review after the jump...
John is tasty and has potential, to be sure, but his facial expressions and muscular writhing in the "hot seat" would be so MUCH MORE INTERESTING if Rich proceeded to tie this guy down for his milking. John might be a little jumpy or unsure of himself now, imagine what'd be going through his head if he were restrained to that chair and unable to rescue his cock from Rich's relentless strokes? The cumshot would have been even more intense if that boy was gagged, maybe gritting his teeth around a rubber ball, a knotted sock or a tight bandana, but you can see the relief wash over him when he's finally able to blow a load. Of course, Rich is teasing us, the viewers, just as much as he's teasing his models, isn't he? ;-)